SNEAKERHOLICS x KANGAROOS 'BUBBLEGUM'
SNEAKERHOLICS x KANGAROOS 'BUBBLEGUM' The cooperation among europe's biggest active…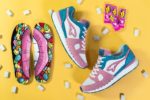 SNEAKERHOLICS x KANGAROOS
'BUBBLEGUM'
The cooperation among europe's biggest active "sneaker" facebook group and our friends from kangaroos has already been reported in detail in the social media. What does this cooperation mean for the sneaker scene? Nothing less than a game changer. David teichert, the mastermind behind the sneakerholics group, has rethought and implemented everything that had been there so far with his release strategy.
We are not just fans of the cooperation, but had the great pleasure to contribute to it. Besides the conception and realization of the special-boxes, we were also responsible for the design of the "regular" box and for the first time we also put our hands directly on the sneaker and deliver the design of the insole and heel.
Do you remember when you and your friends were kids putting coins in the automat in your street so you could get that chewing gum out and blow the ultimate bubble?
Pictures by Sebastian Morgner & Leo Harnisch