@MAX.LOEWE
@MAX.LOEWE 1. Can you briefly introduce yourself (who are you,…
1. Can you briefly introduce yourself (who are you, where are you from, how do we find you on IG)?
Max: Hey! I'm Max, 31 years old, living in Kassel, Germany. People may know me as @max.loewe on Instagram.
2. Since when do you collect shoes and why Asics?
Max: Growing up with US Hip Hop music, sneakers as a part of the culture connected to it were always interesting to me. Collecting itself began in 2009 for me with hunting and buying limited sneakers. My first Asics was the Sneaker Freaker Alvin Purple. Asics got on my radar because of the iconic split tongue of the Gel Lyte III and Gel Lyte Speed. I dug deeper into the brand and fell in love with the Sagas, GT-II, Gel Lyte IIIs and Gel Lyte Speed. The comfort, the materials and creative collaborations made the brand always special for me. I took part in numerous campouts and queues around Europe to get my hands on my favorite pairs.
3. Your sneaker wall is on fire, which 3 shoes would you save?
Max: That's actually an easier decision than you'd think. It's the Asics x Afew Gel Lyte III "Koi", the Nike x Patta x Parra Air Max 1 "Cherrywood" and the New Balance x Hanon 1500 "Chosen Few".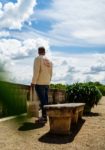 4. If you could change one thing in the sneaker game: What would it be?
Max: Resell culture. It's not about the shoes and the exchange between collectors anymore, it's all about flipping shoes for some money nowadays. I sound like a grumpy old man, but it is what it is.
5. What is the best soft drink in the world?
Max: Easy choice: Paulaner Spezi. Nothing compares to this god given softdrink.
6. Which current living person would you most like to meet?
Max: Jay-Z. My favorite Hip Hop Artist of all time and an exceptional business man. This would be a great conversation.
7. Dogs or cats?
Max: 10 years ago I would've said cats, but today it's all about dogs. Greetings to Nero and Mogli, my two buddies 🐶
8. Any final words for the community?
Max: Less is more. No need to get every new release nowadays. Buy what you like and not what is hyped the most. And wear what you buy, they are just shoes 😉