@HIGHLYAKICKTIVE
@HIGHLYAKICKTIVE 1. Can you briefly introduce yourself (who are you,…
1. Can you briefly introduce yourself (who are you, where are you from, how do we find you on IG)?
Holger: Hi, my name is Holger Kiparski and I'm from the beautiful city of Hamburg, on Instagram and YouTube you can find me under @highlyakicktive
2. Since when do you collect shoes and why Asics?
Holger: Collecting I would say since 2015 but I've been wearing Asics for a lot longer, just nothing that was super memorable so I cannot really put a date on it. I just know that my older brother used to have the original Gel Lyte and I was always trying it on whenever he wasn't home. That must have been in the 80s.
3. Your sneaker wall is on fire, which 3 shoes would you save?
Holger: The Asics Awake Gel Kayano 5 360, at least one of my Hanon Diadora N9000s and a Jordan 1 Black Toe.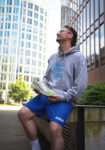 4. If you could change one thing in the sneaker game: What would it be?
Holger: Taking the pace out of the release cycle. There's too much releasing, too many people trying to resell and therefore many are losing interest to buy anything. Whatever you're buying, nobody is interested in it 3 weeks later. It's become a scene of junkies just looking for the next fix.
5. What is the best soft drink in the world?
Holger: Dr. Pepper of course.
6. Which current living person would you most like to meet?
Holger: Henry Rollins.
7. Dogs or cats?
Holger: I've really become a fan of cats since I used to own one by accident but if I had to make a choice I'd go for dogs. You can take them everywhere and they are a little more sociable. My cat was friggin' cool though!
8. Any final words for the community?
Holger: Put away your phone for a day and do some real shit.